Past Events
Careers in Social Impact Panel
March 2019
PIIC collaborated with 180 Degrees Consulting and the Social Impact Advisory Board to host the Careers in Social Impact Panel. Panelists spoke on their experiences working for US Peace Corps, social impact startups, United Nations, Global Health Corps, boutique consulting firms, and Education Pioneers Fellowship.
Career Trek
February 2019
PIIC members visited Dalberg Global Development Advisors, Cornerstone Research, PIMCO, and DonorsChoose in New York.
Careers in Consulting
October 2018
PIIC and Wharton Guide hosted a Careers in Consulting Panel, in which panelists spoke on their experiences in the consulting field with firms such as Bain & Company, Oliver Wyman, and Accenture.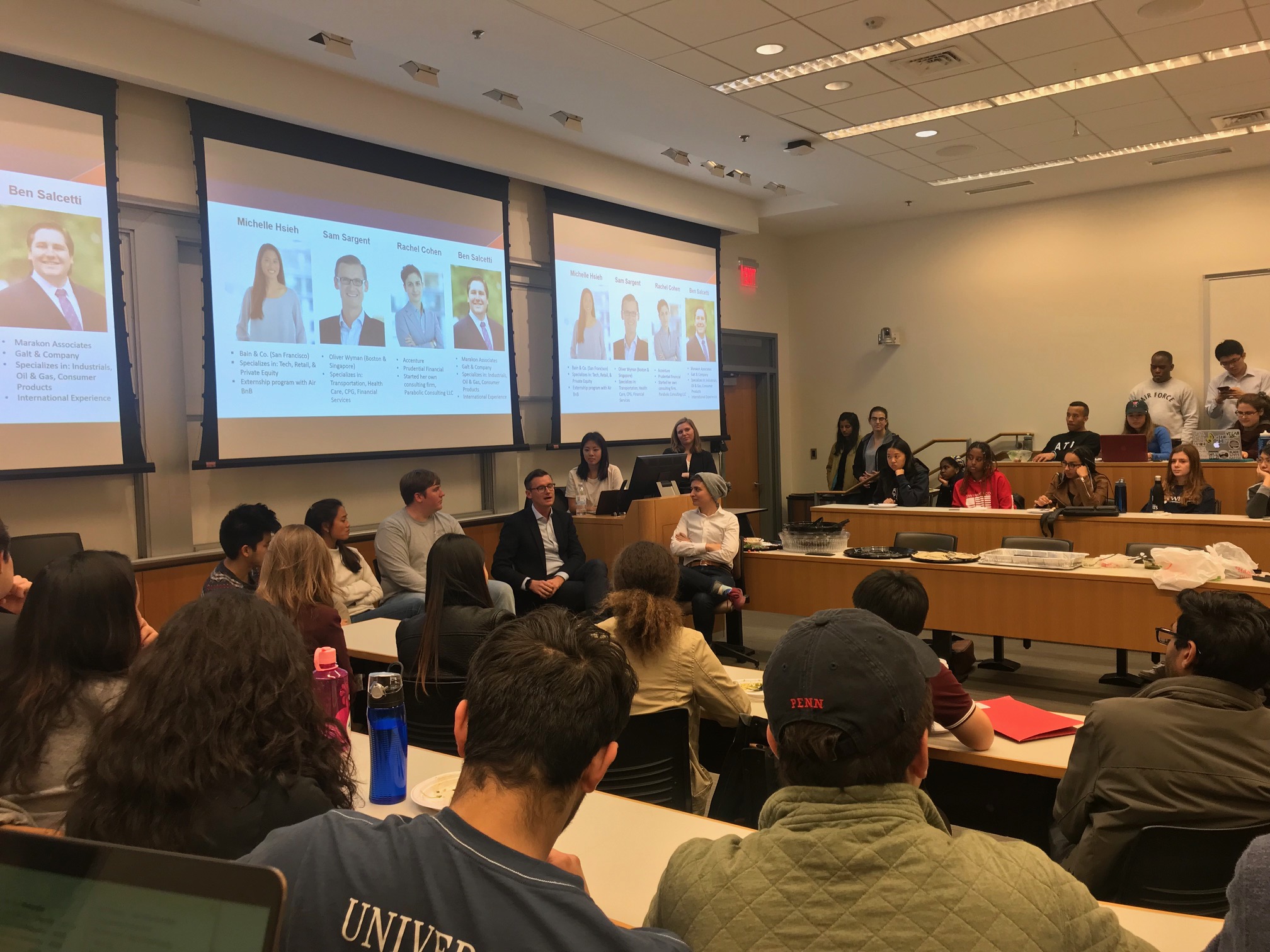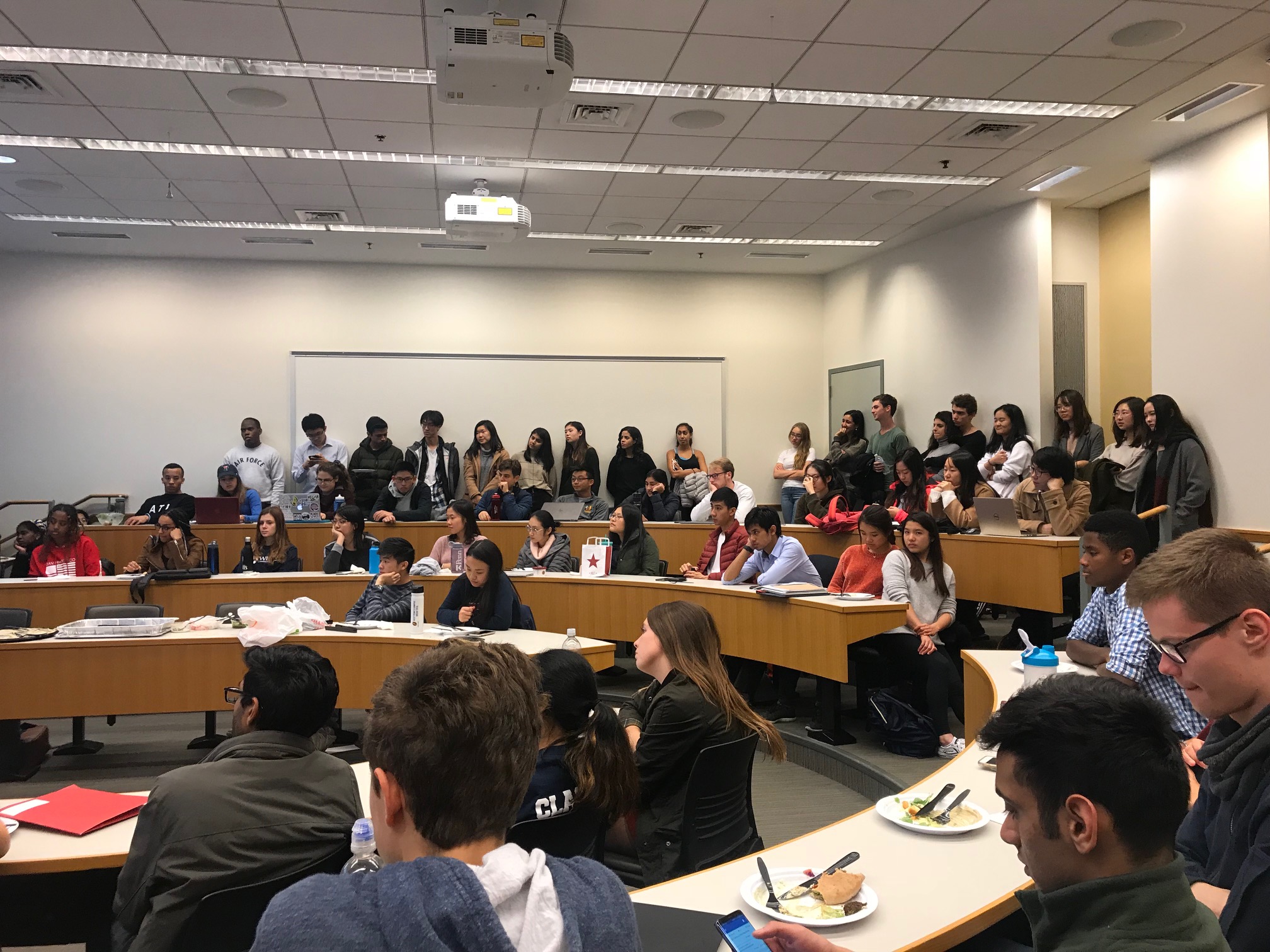 Consulting Camp
September 2018
PIIC collaborated with MUSE and WUCC to host Consulting Camp. They walked through the fundamental frameworks and concepts for consulting and then applied them all in the contexts of real business cases.
Careers in Social Impact
March 2018
PIIC hosted panelists with experience working in NGO's (The Nature Conservancy), multilateral institutions (The United Nations), development consulting (Dalberg), social-impact-oriented private sector roles (CSR at Hugo Boss) and graduate school (Sustainability Management at Columbia)
Consulting Camp with WUCC and MUSE
February 2018
PIIC co-hosted a consulting camp series aimed at the broader Penn Community interested in learning more about the consulting career.
Career Trek to New York
February 2018
PIIC members visited Dalberg Global Development Advisors, a international development consulting firm, and Morgan Stanley.
Careers in Consulting Panel
September 2017
PIIC hosts MBA Panelists to discuss their experiences and trajectory into consulting.
Career Trek to Washington, D.C.
March 2017
PIIC visited international nonprofit TechnoServe, an international NGO Save the Children, and startup incubator 1776.
Introduction to Photoshop
March 2017
PIIC hosted a workshop on how to market using photoshop. Student gained hands-on experience of Photoshop through a workshop lead by Jacob Rivkin, and later applied it to marketing ventures.
VC's and Startups: A Discussion with Philadelphia's Leaders in Social Entrepreneurship
January 2017
PIIC explored the intersection of social impact and venture capital/startup culture with some of Philadelphia's pioneers of entrepreneurship: Garrett Melby, the Co-Founder and Director of GoodCompany Ventures and an active angel investor in the Investors' Circle; Fernando Rojo, a current Penn undergraduate and CEO of PATOS Shoes; and Nate Bronstein, a Director of the Social Innovations Lab.
Career Trek to New York
December 2016
PIIC members visited Beespace, an incubator for nonprofit startups; Human Rights Watch, an NGO centered on human rights research and advocacy; and the United Nations headquarters.
Shaping Global Perspectives
December 2016
It was our pleasure to welcome Mr. Jude Tuma, CEO of Geminus Capital and Penn Warranty, back to campus to speak on how his international experience has shaped his business perspective. With expertise in private equity and insurance, Mr. Tuma provided students with a better understanding of opportunities in these career fields and offered advice on how to achieve career goals in an evolving global environment. As an alumnus of Penn, Mr. Tuma's background and knowledge made him an excellent candidate to speak on campus and engage the student body on the business world.
Breaking Into Social Impact
November 2016
The panel brought representatives of local NGOs/organizations that operate with a social impact focus to undergraduate students at Penn. We educated students about how one would break into social sector, either through starting their own organization or working in one.